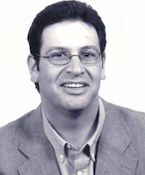 Thank you for visiting AMG Web Design, based in Anthem, Arizona (just outside of Phoenix). My name is Andrew Greenstein, and I am the founder of AMG Web Design. In fact, I am its only employee. I started AMG Web Design in 2002, when a small yet budding company in Massachusetts needed a strong Internet presence to aid in selling its products -- rain barrels. Since the launch of that website, their sales skyrocketed, and AMG Web Design was in business to stay. Although I am based in Arizona, I can design websites for anyone across the country -- and all over the world, for that matter.
Being a devout hockey fan, the first website I put together was The Hockey Uniform Database, which chronicles the history of every uniform worn in the National Hockey League. At its inception, it only covered the last 35 years or so, but over time, it became so popular that it was expanded to cover the entire history of the league. While it's more of a personal website than a commercial one, it should give you an idea of the web design features that I can do for your organization.
While many other web designers charge by the page, image or paragraph, I don't do that. I charge a flat hourly rate, and I give you an up-front estimate based on the content you choose for your website. That estimate also serves as your ceiling -- you'll never pay more, but you could end up paying less. Feel free to contact me for details and more information.
While my main focus is on designing websites, I will be more than happy to assist you hosting your website or in registering your domain if those needs arise. For those services, I use GoDaddy.com, a company based in Scottsdale, Arizona. You may have seen an ad or two from them during recent Super Bowls.
So once again, I welcome you to AMG Web Design. If I can be of any assistance, please do not hesitate to contact me.